San Diego Motorcycle Accident Attorney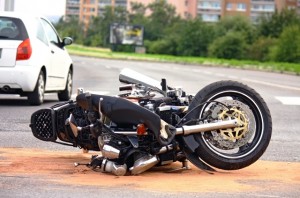 There are over 8.4 million motorcycles on U.S. highways, and in 2013, motorcycle accidents caused over 4,000 fatalities and 88,000 injuries. According to the National Highway Traffic Safety Administration (NHTSA), motorcyclists are about 26 times more likely than car occupants to die in a crash and five times more likely to be injured.
These statistics are both terrifying and sobering. In San Diego alone, hundreds of thousands of speed bike riders, Harley enthusiasts, members of motorcycle clubs, and other motorcycle owners roar through city streets and along the mountainous roads of Torrey Pines State Reserve, Mission Trails, the Palomar Mountain roads, and many others. From Route 76 to Otay Lakes, some of the most dangerous roads for motorcyclists according to the San Diego Union-Tribune, San Diego County is no stranger to motorcycle accidents.
What to Do If You Are in an Accident
Do you know what to do after being injured in a motorcycle accident? Of course, getting the medical assistance you need is the first, and most important, step. But what if your injuries are keeping you from working and maintaining a sustainable income for your expenses (including hospital bills!)? What if the injuries were so serious that you may never recover? The "What Ifs" surrounding motorcycle accidents are numerous, which is why a motorcycle accident attorney is a necessary companion to walk you through these scenarios.
At the Law Offices of Jason A. Rodenbo in San Diego, we employ the highest standards of legal representation to minimize your stress and any difficulties surrounding a motorcycle accident. You should be able to focus on your health and getting better. We'll take care of the rest. Contact the Law Offices of Jason A. Rodenbo at (619) 265-0081 today for a free consultation regarding your case.
 Causation in California Motorcycle Accidents
Traffic laws are meant to protect you, and with motorcycles, these rules can mean life or death in an accident situation. Beginner motorcyclists should always take a course about motorcycles and riding safety, as statistics show that many riders that have been involved in fatal accidents were speeding, driving recklessly, or using drugs or alcohol. Other accidents that involved a motorcycle and another vehicle, however, occur because of negligence and reckless driving. According to CACI Sec 430 of California's Civil Jury Instructions, Causation is defined as follows:
"A substantial factor in causing harm is a factor that a reasonable person would consider to have contributed to the harm. It must be more than a remote or trivial factor. It does not have to be the only cause of the harm."
Therefore, if another driver or motorcyclist caused the accident, especially due to negligence, he or she should account for several damages, such as:
Medical bills
Future lost earnings
Lost earning capacity
Suffering and emotional trauma
Other awards related to permanent injuries and, in worst case scenarios, death
      Insurance companies will look to settle out-of-court, and in some cases, their proposals may seem attractive. A San Diego motorcycle accident attorney will make sure that the insurance company's proposals are accurate, and if not, your attorney will negotiate for a better outcome. If the attorney and the insurance company can't agree, then your attorney will represent your case in court.
Why You Need a San Diego Accident Attorney
When negligence causes injury, you need to be diligent, organized, and prepared to fight for a satisfactory compensation to cover your expenses and pay for pain and suffering. However, recovering from an injury doesn't leave much time for dealing with legal troubles. At the Law Offices of Jason A. Rodenbo, our San Diego accident attorneys give you this time.
Immediately after your accident, it is important to contact a personal injury attorney right away. With legal representation right from the beginning, an experienced attorney will investigate the scene of the accident, speak with witnesses and the police, determine the level of causation and negligence with accident professionals, and document everything.
Our attorneys will keep track of every medical bill, receive statements from doctors regarding the nature and severity of your injuries, and calculate the awards you deserve. Essentially, with a San Diego attorney, you can rest peacefully knowing that we are fighting for the maximum compensation that accurately reflects your injuries. Experienced, compassionate, and aggressive representation means that we will leave no stones unturned, and we'll use the full extent of California and federal laws to build a strong case.
Contact the Leading Accident Attorney in San Diego at the Law Offices of Jason A. Rodenbo
If you or a loved one was injured or killed in a motorcycle accident, contact a San Diego accident attorney at the Law Offices of Jason A. Rodenbo immediately. Time is of the essence in these cases, and by contacting us early, we can reach the critical witnesses while their memories are fresh or before they disappear. Contact our San Diego law offices to schedule a free consultation by calling (619) 265-0081.