San Diego Bicycle Accident Attorney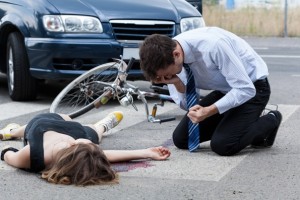 San Diego, and most of California, has experienced a widespread boom in bicycling. From the downtown streets to mountain roads, it is fairly clear that San Diegans love their bikes.
However, bicyclists are not free from the dangers of the road. In 2012, the National Highway Traffic Safety Administration reported 726 bicycle fatalities and over 49,000 injuries in the U.S. According to a 2014 article by the LA Times, California led the nation with 338 cyclists killed in collisions with motor vehicles. Many of these cyclists obeyed California cyclist and traffic laws and wore proper safety gear.
If you or a loved one was in a bicycle accident caused by the negligence of another driver, you may be entitled to financial compensation. Cyclists who share the road with drivers also share the same rights, and no cyclist (or their family) should suffer because of reckless drivers.
Being Safe on San Diego Roads
At the Law Offices of Jason A. Rodenbo in San Diego, we've represented hundreds of fellow cyclists who've been injured in bicycle accidents. These accidents range from a driver not checking his blind spot before changing lanes, drivers not looking for bicyclists when making a left turn, or drivers who neglected stop signs or lights.
Although bicyclists are not perfect and will sometimes put themselves at risk by cycling recklessly on city streets, we've helped thousands of clients who suffered injury at no fault of their own.
For your own well-being, it is essential to obey all California traffic laws and wear a helmet and reflective clothing at night. Also, try and avoid the blind spots of other cars, ride in bike lanes, obey stop signs and traffic signals, and practice proper bicycle maintenance.
You can't predict the actions of negligent drivers, but you can take all precautions necessary to protect yourself.
Negligence in Bicycle Accidents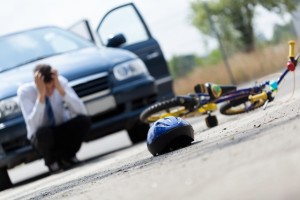 In the unfortunate case that you're in an accident, you have the Law Offices of Jason A. Rodenbo at your side. As we've mentioned before, not all bicyclists follow the rules, and a negligent biker who injures him or herself might not be eligible for compensation.
Negligence by driver can take many forms, ranging from speeding and running lights to not checking blind spots and opening doors in the path of a bicyclist. Proving the driver's negligence caused the accident ensures maximum awards for your damages.
However, it is important to note that California is a comparative fault state, which means that the cyclist's negligence also plays a role in the lawsuit. Typically, the insurer determines the fault for both parties, and the awards are then distributed based on the percentage of fault. For example, if you would have received $10,000 for your injuries, and insurance adjusters determined that you were 40 percent at fault, then your maximum awards would be $6,000.
How a San Diego Bicycle Accident Attorney Can Help
From adjusting the awards and comparative fault to proving driver negligence in the first place, navigating the muddy waters of a personal injury lawsuit alone is a highly complex matter. In fact, to receive accurate awards for the damages you suffered, it is important to hire an experienced personal injury lawyer who understands bicycle accidents.
At the Law Offices of Jason A. Rodenbo, our San Diego bicycle accident attorneys have helped thousands of clients receive honest awards that covered the following accident damages:
Medical bills, including years of therapy or check ups
Pain and suffering
Loss of earnings while injured
Loss of potential future earnings due to injury sustained
Compensation for permanent injury and, in the most unfortunate cases, death
     After an accident, the first step is to get the medical help you need. Your life and health are the most important, and only when you can, call our San Diego personal injury attorneys. After you're better, it is important to not hesitate. We will give you a free case evaluation and begin working on your case right away.
     Compassion and aggressive litigation techniques define our service to you. We will diligently interview witnesses of the accident, gather police reports and other official documents, organize your medical bills and other expenses, and calculate your potential future earnings and loss of current earnings.
Contact San Diego's Top Accident Attorney
The Law Offices of Jason A. Rodenbo stands as San Diego's top personal injury attorney, and as fellow bicyclists ourselves, we understand that bicyclists deserve the full extent of Californian and federal laws. If you or someone you love is injured in an accident, don't hesitate. We have the litigation experience and resources to get you the compensation you deserve.